by
From
Subscribe
Reprints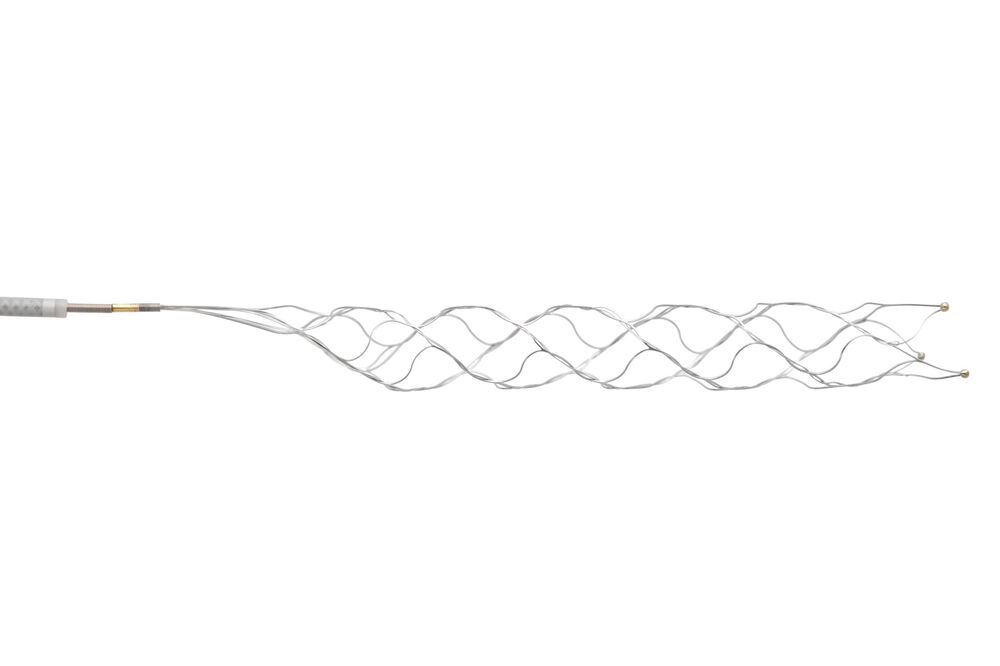 Lee Bekemeyer collapsed on the driving range at Stoneybrook West Golf Club one morning in 2015, a massive stroke choking off the flow of blood to his brain. The 86-year-old real estate broker couldn't get up, move his right side, or speak. One in eight patients with such acute strokes dies within months, and two in three suffer lasting complications such as paralysis, slurred speech, and trouble walking or caring for themselves. Bekemeyer wasn't one of them.
He was rushed 15 miles to Florida Hospital in Orlando, a comprehensive stroke center. After a CT scan, doctors threaded a metal stent through an artery into his brain, then expanded it to snare and extract the clot, allowing blood to flow freely again. The entire process took less than two hours. "I was walking to the bathroom that night, and I think I was 95 percent back the next day. It was miraculous," Bekemeyer says. "Not every hospital has a team that does this."
In the field of stroke treatment, the maxim is "time is brain," because every minute with a clot costs a patient millions of brain cells. By that standard, Florida Hospital is exceptional. Last year 81 percent of its stroke patients were treated within two hours of arrival, up from 22 percent in 2013, according to Indrani Acosta, the director of stroke care. Many who might have been sent to a nursing home went to a rehab center instead, she says, while people who would have gone to a rehab center could go straight home.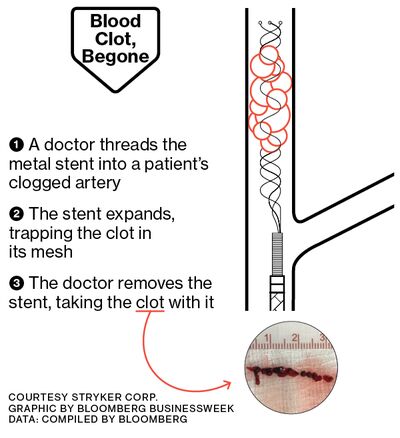 That's due in part to clot-retrieving stents such as the one used on Bekemeyer. They're sold for about $8,000 by companies including Medtronic Plc and Stryker Corp., and according to a 2015 study published in the
New England Journal of Medicine
,
60 percent of stroke patients treated with a stent retriever functioned independently after three months, compared with 35 percent of those given drugs alone.
(I still bet this is time to delivery rather than stent vs. tPA, followup needed.)
About 240,000 of the 700,000 Americans who suffer strokes each year have blockages in arteries large enough to be treated with these kinds of clot-retrieving stents. But only about 28,000 were treated with one last year, says Stacey Pugh, vice president of Medtronic's neurovascular unit.
The stents, while relatively cheap in hardware terms, are rare outside of the roughly 150 specialized facilities in the U.S. known as comprehensive stroke centers, because they require an in-house neurosurgery unit, minute-saving training, and space. As a result, the devices have become a bit of a flashpoint among doctors who say more facilities around the country should be equipped to handle extreme cases like Bekemeyer's. The procedure just isn't available in many parts of the country.
"These treatments need to be available in the community, and access needs to be fair," says Lee Schwamm, chief of stroke services at Massachusetts General Hospital and a professor of neurology at Harvard Medical School. "We need them to be more equitably distributed. Many are packed in big cities, and there aren't enough in suburban communities and strategic locations in less populated areas."
Among America's 1,100 or so hospitals equipped to deal with more minor strokes, the priority is speedy injection of a drug called tPA, which over the past two decades has become the standard of care to break up smaller, less accessible clots. If a paramedic thinks a patient is suffering a stroke more minor than what Bekemeyer experienced, it may not be worth passing a couple of hospitals to head for a bigger pool of stroke experts, as Bekemeyer's paramedic did.
"I can see the desire to open more comprehensive stroke centers, and we are moving in that direction," says Acosta of Florida Hospital. "But our field is not as big as the cardiology field," which numbers about 30,000 doctors in the U.S. "There are fewer neurologists by far"—roughly 16,000.
Efforts to bring the stents into the mainstream have also been sidetracked by the failures of early versions, which cleared clogged arteries but also resulted in some uncontrolled bleeding in the brain and some deaths. Three major trials of those earlier techniques failed as recently as 2013. Since the 2015
NEJM
report, however, a flurry of five positive studies, the most recent one published in March, has led more doctors to push for wider adoption.
Medtronic says its research shows that stent-based clot removal also cuts health-care costs. Initial treatment including a clot retriever runs $45,761, vs. $28,578 for treatment with drugs alone. For the next 90 days, however, those patients generate $5,000 less in medical expenses, and over the patient's lifetime, Medtronic's Solitaire retriever could save $23,203.
"A stroke patient was a stroke patient until two years ago. There was one thing you could do for them, and that was to give them tPA," says Medtronic's Pugh. "The health-care system is evolving to come into alignment with the data. It needs to evolve faster."
An additional 350 U.S. medical facilities are equipped to perform the stent procedure and are working to receive certification as comprehensive stroke centers. And a pending Stryker study suggests that the stent treatment may be effective as long as a full day after the onset of a stroke, potentially making it much more accessible for a wider range of people.
Bekemeyer recommends it. He was golfing again within a month of his stroke and, at 88, continues to hit the links several times a week. He navigates a 19-step circular stairway to get to his bedroom every night. And he allows himself to marvel. "I would have thought if I had a massive stroke the way I did, I would be finished for the rest of my life," he says. "I would have rather gone on out than to never fully recover."